The TEDxBuffalo team is pleased to present the speaker lineup for TEDxBuffalo 2015: Illuminate.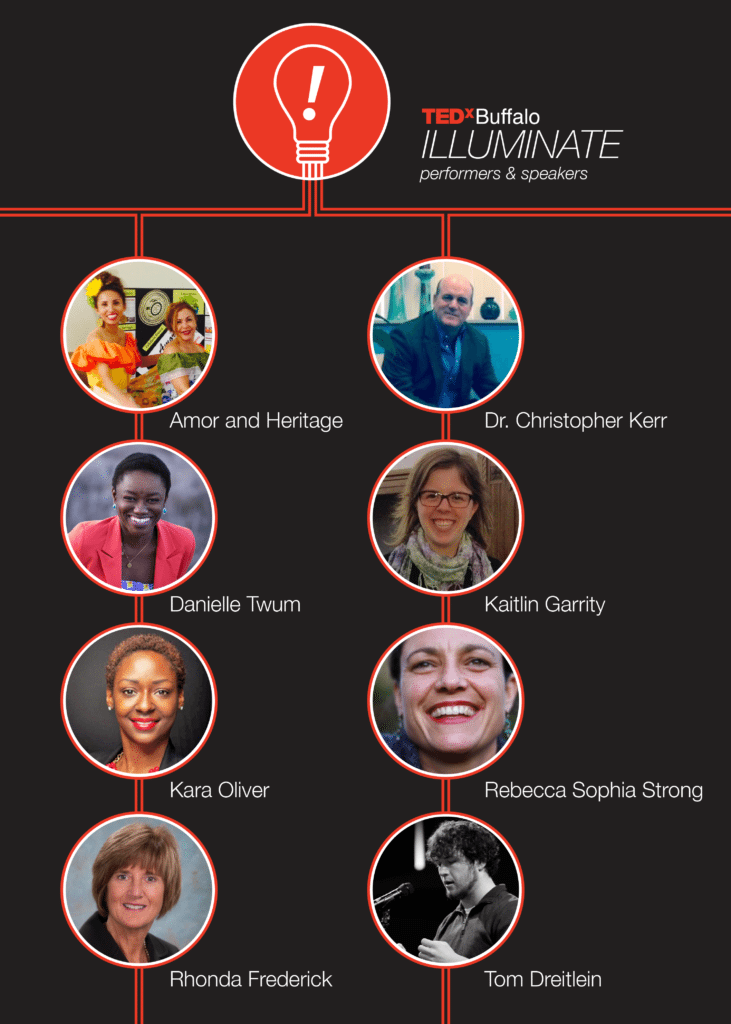 Amor and Heritage
"Amor and Heritage Presents: The Art of Diversity with Folkloric Latino Dance"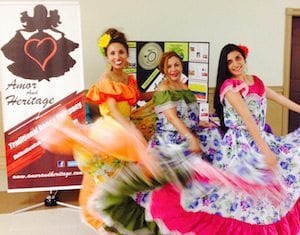 About: Amor and Heritage is a traditional Hispanic/Latino dance company dedicated to the promotion of multiculturalism and diversity, through the use of DANCE! We promote tolerance, education, understanding of other cultures, the importance of self-confidence, sharing kindness and staying healthy through dance and movement. Amor and Heritage teaches dance as school programming, special workshops and classes, and performs at festivals and events all over WNY.
Web: amorandheritage.org
Dr. Christopher W. Kerr
"I See Dead People: Dreams and Visions of the Dying"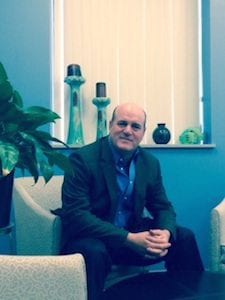 About: Dr. Christopher W. Kerr is the Chief Medical Officer at The Center for Hospice and Palliative Care, where he has worked since 1999. His background in research has evolved from bench science towards the human experience of illness as witnessed from the bedside, specifically patients' dreams and visions at the end of life. Although medically ignored, these near universal experiences often provide comfort and meaning as well as insight into the life led and the death anticipated.
Danielle Twum
"Guardians of Your Inner Galaxy"
About: Danielle Twum is a third year pre-doctoral candidate at Roswell Park Cancer Institute studying cancer immunology. Originally from Ghana, West Africa, Danielle received her B.A. in Biology from Vassar College, where she studied the effect of climate change on corals. It was in college that she became fascinated with the immune system and decided to pursue a degree in immunology. When Danielle is not making magic at the bench side, you'll find her touring Buffalo in her running shoes, joyfully exploring the local food scene and scheming to get her family up here more.
Kaitlin Garrity
"Gratitude Sticks: Why Small Acts of Kindness Matter"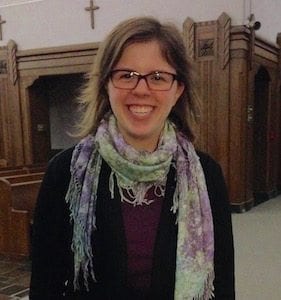 About: Kaitlin Garrity is a senior at Canisius College studying communication and hopes to work as a Campus Minister at a Jesuit college or university. She is currently a resident assistant, a Campus Ministry intern and a singer in the Contemporary Music Ensemble. In her spare time, Kaitlin enjoys cooking, spending time with her family and sharpening her wit.
Twitter: @KaitlinGarrity
Kara M. Oliver
"Everyday Wonderful: Community Building in Relation to Arthur"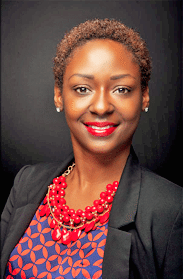 About: Kara Oliver is currently the Program Specialist at the National Federation of Just Communities of Western New York. A native New Yorker, Kara moved to Western New York in 2007 to pursue her degree in communications and has not looked back since. Her passions involve creative problem solving, volunteer work, youth engagement and community building.
Instagram: @mickeymichelle89
Rebecca Sophia Strong
"Our 13.8-Billion -Year (Somatic) Intelligence"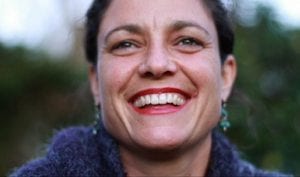 About: With a masters-level background in the social sciences, Rebecca Sophia Strong is a social artist, movement educator and Founding Director of The Embodied Cosmology Project. Rebecca brings the 13.8 billion-year scientific timeline to performance art through a piece she wrote called "Cosmogenesis: The Story of Us." She also works to bring the body back into education through a movement- and arts-based non-formal science curriculum of the 13.8 billion-year journey. She has been working from the premise that as we deepen our understanding of and alignment with the creative and historical 13.8 billion-year track record of the universe and Earth, we will become more intelligent and innovative shapers of the future.
Rhonda Frederick
"Differently Abled: Employing the Next FDR"
About: Rhonda Frederick, MPA, is the President and Chief Executive Officer of People Inc., a leading not-for-profit health and human services agency providing programs and services to more than 12,000 people with special needs, their families, and seniors throughout Western New York. With an operating budget of $143 million and 3,400 employees, People Inc. has assisted individuals to achieve greater degrees of independence and productivity since 1971. Frederick joined the agency as a direct care staff member in 1980 and rose through the ranks to become agency's president and CEO in October 2014.
Tom Dreitlein
"On Breathing Borrowed Air"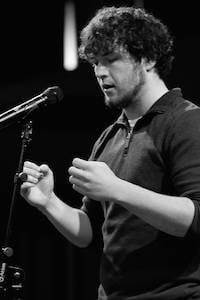 About: Tom Dreitlein is a poet from Rochester, New York. A Junior at SUNY at Buffalo, he is currently pursuing a joint degree in English and Communication. A three time winner of the Pure Ink Poetry Slam, this past February, Tom placed 1st at the Youth Buffalo Niagara International Poetry Slam. When he isn't competing, Tom works to bring together individuals who share his passion for all things poetry. In 2014 he helped found UB Speaks, a workshop based organization aimed at developing the next generation of Buffalo's performance poets. In the future he hopes to continue to work as a student of and advocate for the spoken word community in Western New York.
Web: pureinkpoetry.com
---
View and/or download the official press release for the 2015 speaker announcement.
Applications to attend TEDxBuffalo 2015 are open now through August 14. Click here to apply.