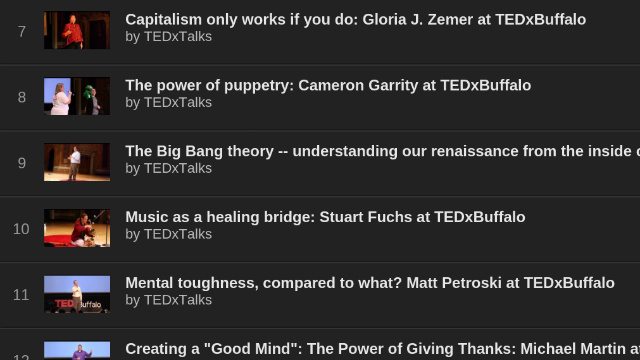 You may have seen this year's talks promoted on our Facebook page or our Twitter account, but let's make this announcement blog-ficial: all of our speaker's talks are now available for viewing on YouTube. You can see the whole TEDxBuffalo 2013 playlist on YouTube, or hit "Play All" to see them below. Click the Playlist button to choose individual speakers.
Our 2013 speakers put hours of their own time into their talks and gave up the chance to broadly promote themselves or their affiliated organizations to bring you these ideas, for free. We are quite proud of them and the product we can share with you today.
On a less serious note: they are really fun to watch. Make time in a lunch break, a quiet moment after dinner, or when you're in need of a change-up while at work. Some are quite short, others will make you wonder where 18 minutes went. See what ideas came out of months of work and preparation.
Thank you to everyone who spoke, sponsored, attended, organized, and otherwise helped at TEDxBuffalo 2013. We are already working on 2014.